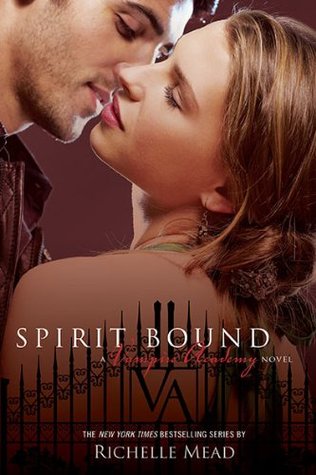 "Blurb"
Dimitri gave Rose the ultimate choice. But she chose wrong...
After a long and heartbreaking journey to Dimitri's birthplace in Siberia, Rose Hathaway has finally returned to St. Vladimir's-and to her best friend, Lissa. It is nearly graduation, and the girls can't wait for their real lives beyond the Academy's iron gates to begin. But Rose's heart still aches for Dimitri, and she knows he's out there, somewhere.
She failed to kill him when she had the chance. And now her worst fears are about to come true. Dimitri has tasted her blood, and now he is hunting her. And this time he won't rest until Rose joins him... forever.
"Review"
It was not as good as the last three books but still a 5-star read. It seems that Rose has finally gotten over Dimitri but she keeps getting letters from him. Dimitri can't let Rose go and now that she has refused to be awakened, he wants to kill her.
Rose is now with Adrian. She doesn't love him like she did Dimitri but she is willing to give them a chance. There is still hope that Dimitri can be saved. The big question remained that what will happen in their love triangle? Here I want to say that this is the only thing in this series which I did not like. The reason is that Rose has really really strong feelings for Dimitri and we do not see her wavering from that. But when it comes to third person in these love triangles (Mason in first few book & Adrian in the rest), she doesn't feel much. She likes them but that's all. So in my opinion this makes her character a negative one. Not my favourite. It seems like she is using them to pass time or get over her love. Which is not very impressive if you asked me.

Lissa and Christian remained my favourite characters in this book too. Their side of the story is always fun to read. Sometimes I wonder what this series would have been like if Lissa was the main character instead of Rose. She has better personality. But Rose is not all bad either.

So now the sixth and final book. I really hope that it ends well. Because ending can change my take on the whole series. I have been loving these books so far and I hope that does not change.