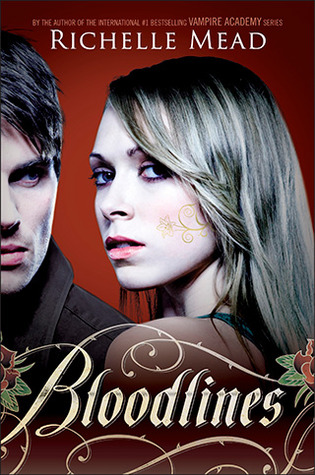 Goodreads' Description:
Rose's story might have wrapped up in the
Vampire Academy series
, but there's still lots more to tell about the other characters from that world. This spin-off series centers around Sydney the Alchemist, a human teen who's part of a group to keep the existence of vampires secret from the world. Sydney's spent her entire life being taught that vampires and dhampirs are evil and unnatural, but all that's about to change when she's forced into hiding with Jill, Adrian, and Eddie...
Books In Reading Order:
1.
Bloodlines
2. The Golden Lily
3. The Indigo Spell
4. The Fiery Heart
5. Silver Shadows
6. (Untitled)
My Review of The Series:
This is a Vampire Academy's spin-off series but in my opinion ten times better than it. So far four books have been published. It is expected to have six books in total. All four book are 5-Star reads. I absolutely loved reading about Adrian and Sydney. All the side characters are well written and interesting as well.
Sydney is an Alchemist, they hate vampires and dhampirs. Because these creatures are not part of our world, they are not normal and hence should be hated. But all Alchemists believe in keeping their existence a secret. There is no need for humans to find out about these "evil" creatures. This is what Sydney had believed as well but her encounter with Rose had changed her a little and then when she was forced to live with Moroi girl Jill, her believes about all vampires being evil, changed. She realised that they were good too. Strigoi were the evil vampires, to be feared and killed if given a chance but not the Moroi. Sydney is a perfectionist and her task here is to keep Moroi princess safe and out of harm's way. She was kind of a babysitter and took her job seriously but she was also having fun getting whole "school" experience.
Adrian saved Jill's life using spirit magic and now they were bound together. He was here only because of the connection he now shared with Jill. He is heartbroken after Rose's selfish behaviour towards him. Everyone things that he is useless and expect the worst from him. Only Sydney believes in him and sees him for who he is. She convinced him to get admission in art school and continue with his life as normally as possible.
Sydney and Adrian make an odd couple, a human and a Moroi, it unheard of. Its a taboo. Hence they keep their affair a secret...
Jill, Eddie, Angeline, Trey, Zoe and Neil are also at Palm Springs all working towards a same cause but all having their own secrets and hang-ups which make this series interesting and fun to read. It revolves around Alchemists, their believes and how they are wrong in many things, Sydney's struggle when she finally found out the truth about Alchemists, Warrior of light and her own magical powers. She must decide whom to trust. It wasn't an easy path for her and things were never quite in small town of Palm Springs. There were many dangers and exciting things which kept happening. Some of the main characters from Vampire Academy also made an appearance in this series.
The first three books can be read as stand alone but the fourth book ends with a cliffhanger thus my anticipation for fifth book is off-charts. It is expected to be published in July and I am looking forward to read it. I hope the series end in a good way so that I can still say that it was a 5-Star series.