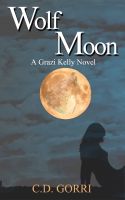 Description
"Hi. My name is Grazi Kelly. There are things I know are true and things that I never would have guessed. First, demons and witches exist and they are evil. Second, the world is up for grabs and the witches are getting their minions ready. Third, I'm a werewolf and it's my job to stop them."
High school sophomore Grazi Kelly leads an ordinary life in the suburbs of New Jersey helping her grandmother with chores and attending Catholic school. Things are pretty good except for her bullying cousin and the rest of the obnoxious cheer team. Then things take a frightening turn when the night of the full moon arrives and the bodies start piling up. Grazi learns that she is different in ways she never expected. She finds herself torn between Sebastian, the school soccer star and Ronan, a foreign exchange student who shares her secret. She must uncover the identity behind the mysterious attacker, but is she ready for the entire truth?
Review
I liked this book a lot. Its a story about a werewolf who is in the dark about herself and when the time came for her to shift she had to deal with a lot of things. Her uncle came to visit out of the blue, she had no prior knowledge of her father's family. Things seemed quite complicated and she was confused about whom to trust or not to trust. And then there were the killings. police ruled it as animal attacks but was that all? Or was there more to the story?
She had a normal teenage life. Mean girls tormenting her and a cute guy she was crushing on. Life wasn't easy as it was but then things got even worse. She was to lead an army of werewolves to fight demons and she was so not ready for that....
This book intrigued me from the very beginning. I loved reading about Grazi and her life. All the supporting characters were well written as well. As book one its clearly a "build up" to the main plot so the story leaves a lot of unanswered questions. But there was no frustrating cliff hanger so people like me can enjoy it (I just don't like cliff hanger).
I will recommend this book to any paranormal fiction's fan. Its worth a read!!